Science Meets Spirits
Pint of Science thrives in Cologne's pubs
For three lively evenings, the vibrant city of Cologne played host to the annual Pint of Science event in three cozy local pubs. There people gathered to engage with leading researchers from various scientific disciplines, exchanging ideas and experiences over pints of their favorite beverages. The twelve thought-provoking talks presented during the event were delivered with a perfect blend of creativity and simplicity, captivating the audience's imagination.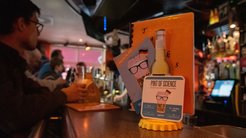 The diverse range of topics covered in the talks spanned microbiology, plant sciences, molecular medicine, and quantum physics, attracting a wide spectrum of individuals from different backgrounds. With a packed attendance, the pubs radiated an atmosphere of joy and excitement. Among the attendees was a biology enthusiast, who shared her experience of the evening, saying, "It was a good evening! I attended with my friends, and we had a great time filled with laughter. I definitely learned new things, particularly about crystal formation."
On Tuesday evening, Polina Zhigulina took the audience on a journey into our brain and explained in her lecture how inflammation can influence our behaviour.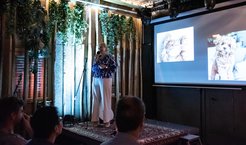 Pint of Science is an international non-profit organization dedicated to hosting festivals that bridge the gap between local researchers and the general public. Through local pubs, bars, cafes, and public spaces, the organization fosters a unique environment where researchers can share and discuss their findings with the community. This year's events, held from May 22 to May 24, spanned 26 different countries, with Germany alone hosting the event in 16 diverse cities, including Cologne.