Award Ceremony in Cologne City Hall
K.J. Zülch Prize awarded by the Max Planck Society
Classical music and plenty of applause for excellent research characterized the awarding of the "Klaus Joachim-Zülch Prize" on Thursday evening in the old city hall of Cologne. The 50,000 Euro prize, awarded by the Gertrud Reemtsma Foundation of the Max Planck Society, was this year awarded to Prof. Dr. Adrian Krainer and Prof. Dr. Richard Finkel for a new therapy for spinal muscular atrophy.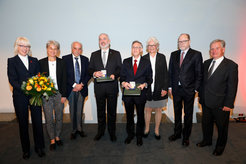 Mayor Elfi Scho-Antwerpes opened the evening as host of the City of Cologne, highlighting the achievements of the two award winners. "I am glad to be able to congratulate you tonight. Cologne is a city of renowned research. Science is closely linked to the city."

The award was presented by Prof. Dr. Herbert Jäckle, emeritus director of the Max Planck Institute for Biophysical Chemistry in Göttingen. "The award winners have succeeded in bridging the gap between the test tube and the patients," said Jäckle. He thanked the Reemtsma family for the foundation of the prize and praised the work of the researchers as "groundbreaking basic research".

Gertrud Reemtsma donated the Zülch Prize in memory of her brother, Professor Klaus-Joachim Zülch. Until his retirement in 1978, Zülch was director of the Max Planck Institute for Neurological Research, now the Max Planck Institute for Metabolism Research, and the Neurological Clinic of the City of Cologne Clinics. The prize is endowed with a total of 50,000 euros and in recent years has always been awarded jointly to several scientists.

Laudations by Prof. Dr. Brunhilde Wirth from the University of Cologne and Prof. Dr. Stephan Zierz from the University of Halle were followed by lectures by both prize winners.

"I am very honored to receive this award. I have dedicated my entire scientific career to the research of RNA splicing. There is no greater reward for a basic researcher like me than to apply this research and save the lives of patients," said Prof. Dr. Adrian Krainer.

"I am very pleased to receive this award together with my friend Adrian Krainer," explains Prof. Dr. Richard Finkel. In his lecture, he presented the development of the gene therapy, from the discovery of the protein to its application in patients.

After the award ceremony, the prizewinners signed the guest book of the city of Cologne.