Paul Füchtener and team of training supervisors awarded with the Max Planck Society's 2022 Trainee Award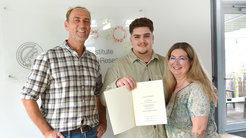 The Max Planck Institute for Metabolism Research has received the Max Planck Society (MPS) Trainee Award for outstanding achievements in vocational training for the second time after 2019. Paul Füchtener and his training supervisor Manuela Etten-Eco were ceremoniously presented with their certificates by institute director Prof. Jens Brüning. The trainee award is presented annually by the MPS.
Since 2016, the institute offers training for the profession of animal caretaker in the field of research and clinic. Our team consists of three training supervisors and additional colleagues who complement the team.
Looking for new trainees
For 2023, we are again looking for young people who want to actively support us and learn the profession. After the training, many doors are open to the trainees at public and private research institutions, also at our institute.