KinderUni visits the Institute
How does a computer calculate and how do scientists use programs to "look inside" brains? In June, twelve children got the answers to these questions at the Max Planck Institute for Metabolism Research in a workshop of the Cologne's Children University "Kölner KinderUni".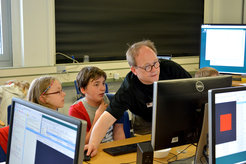 What is one plus one? A very simple task for the human brain, but how does a computer calculate something like this? During the workshop, young researchers learned that a computer can actually calculate very well, but that the exercise must be correctly formulated. This gave them a first impression of how programming languages work and how scientists use image processing.
The series for young scientists took place for the 10th time at the Max Planck Institute and is supervised from the very beginning by Dr. Stefan Vollmar and employees of the IT department. "The KinderUni is one of my favourite projects. I'm drenched in sweat every evening, but it's worth it." says Vollmar, head of the IT and software development group at the institute.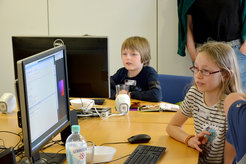 To better illustrate programming languages, the children can explore simple programming structures in a playful way. They "paint" with the computer, let it sing "Happy Birthday" and finally work with "real" data from the brain scanner.
The children's final conclusion: "The best KinderUni so far".