Colorectal cancer risk factors decrypted
Cologne researchers find the connection between obesity and tumor growth 
According to the World Health Organization's International Agency for Research on Cancer, colorectal cancer is the third most common cancer type in men and the second most common in women. Eight out of top ten countries in the world with the highest rates of incidence of colorectal cancer are EU countries. Diet and lifestyle habits, in particular, play a fundamental role, as overweight people are at an increased risk of developing cancer. Scientists from the Max Planck Institute for Metabolism Research in Cologne have now uncovered the links between these two diseases and provide new therapeutic approaches for the prevention of obesity-associated cancers.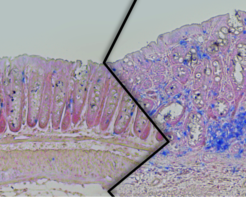 "If the body has to store more and more excess fat, it causes a stress response in the adipose tissue," explains research group leader Dr. Thomas Wunderlich. This stress response alerts the body's immune system, which in turn triggers inflammation in adipose tissue. Chronic obesity puts the body under constant stress and inflammatory signals spread throughout the body. This ultimately leads to a reprogramming of immune cells, changing their function from cancer-fighting to tumor-promoting.
These new molecular-biological findings were recently published in the scientific journal Nature Communications. First author Claudia Wunderlich, who performed the majority of the studies, said: "Just because you're overweight does not mean you will immediately develop cancer.But when abnormal cells are present in the body, obesity can favour tumor growth."
Not only does this study provide evidence on how obesity and colorectal cancer are related, but also additional encouraging findings. "Using mouse models, we were able to identify specific targets for possible therapeutic approaches in humans," explains Claudia Wunderlich. The researchers already have promising results for reducing the risk of disease in obese mice. To do this, they either eliminated specific immune cell populations, or they genetically altered the animals so that certain immune cells could not be reprogrammed in the presence of a high-fat diet. In both cases, the inflammatory response was attenuated, abnormal cells were targeted for removal and the overall development of colon cancer was reduced.