Science
award for PD Dr. Sebastian Theurich
Research on diabetes and chronic inflammation awarded by Glaxo-Smith-Kline Foundation
Sebastian Theurich, visiting scientist at the Max Planck Institute for Metabolism Research and Haemato-Oncologist at the Clinic I for Internal Medicine at the University Hospital of Cologne, was awarded the prestigious Glaxo Smith Kline Foundation Science Prize for "Medical Basic Research" on June 29, 2018.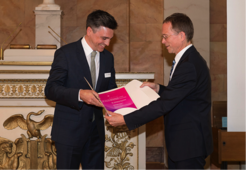 The foundation was founded in Göttingen in 1978 with the aim of promoting biomedical research and its acceptance in Germany and has been awarding prizes for outstanding scientific work since 1989. From 2013 to 2016, Dr. Theurich conducted his research at the Max Planck Institute for Metabolism Research in Cologne in the group of Professor Dr. Jens Brüning on so-called natural killer cells, which normally fight viruses and cancer cells as part of the immune system. In obese people these cells increase the risk of diabetes and chronic immune stress. The findings of his research offer potential targets for new therapeutic options in diabetes and may also be relevant in other obesity-associated diseases.
Dr. Theurich was recently appointed Professor of Immunometabolism at the Ludwig-Maximilian-University of Munich and will also serve as Senior Physician at the Medical Clinic and Polyclinic III. "The award encourages me to continue my work exactly where I am," adds the researcher and physician.
The person:
Sebastian Theurich, a doctor from North Rhine-Westphalia, studied medicine in Lübeck, Umea (Sweden) and at the Humboldt University in Berlin, where he also received his doctorate in 2006. Dr. Theurich received his clinical training at the university clinics in Berlin (Charité), Halle an der Saale and Cologne, where he completed his training as a specialist in internal medicine with a focus on haematology and oncology at Clinic I for Internal Medicine in 2012. 2015 followed the habilitation and Venia Legendi in internal medicine. Dr. Theurich was a visiting researcher at the Max Planck Institute for Metabolic Research, for which he has now been awarded the Glaxo Smith Kline Foundation Prize. From July 2018 Mr. Theurich will become professor and senior physician at the LMU Munich.