Prof. Brüning appointed as a member of the Leopoldina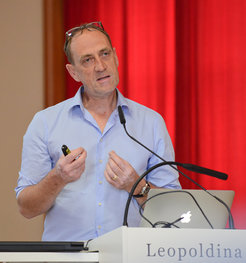 Prof Dr Jens Brüning from the Max Planck Institute for Metabolism Research in Cologne was admitted to the membership circle of the National Academy of Sciences Leopoldina on May 23, 2018. Selected members are scientists who have distinguished themselves through significant achievements.
The endocrinologist and geneticist Jens Brüning has been a director at the Max Planck Institute for Metabolism Research since February 2012.
He completed his doctorate in 1993 at the University of Cologne. Here, he received the Venia Legendi as a teaching authorization for internal medicine / endocrinology (2002). As a researcher, he is interested in the regulation of energy and glucose metabolism in connection with age-associated (e.g., type 2 diabetes) and neurodegenerative diseases (e.g., Alzheimer's disease, Parkinson's disease).
He has already received numerous international awards for his progress in metabolic regulation. In 2007 he was awarded the "Gottfried Wilhelm Leibniz Prize" of the German Research Foundation, followed by the "Minkowski Prize" of the European Diabetes Society in 2008 and the "Ernst Jung Prize for Medicine" in 2009. The "Wilhelm Vaillant Prize" and the "Ferdinand Bertram Prize" of the German Diabetes Society were presented to him in 2005. Already in 2001, he received the "Ernst and Berta Scharrer Prize" of the German Society of Endocrinology.
Founded in 1652, the Leopoldina is the oldest scientific-medical society in Germany, that 1300 scientists from 30 countries belong to. In 2008, it was appointed to the National Academy of Sciences in Germany. Their duties include among others the science-based advising of politics and the public, the representation of German scientists in international academy committees, the promotion of cooperation between researchers and the support of the education of young scientists, for example through the Leopoldina funding program.